Tiger (Hybrid) Musky
The tiger musky is a hybrid produced when a male northern pike (Esox Lucius) fertilizes the eggs spawned by a female musky (E.Masquinongy), consequently, it is conceivable that one might find a tiger musky anywhere that both musky and northern pike occur together, though it is not a common fish anywhere. Tiger muskies may also be found in areas where they have been introduced, but such populations are naturally self-limiting since the tiger musky is sterile, like the mule (which is a cross between a horse and a donkey) and cannot reproduce itself directly. The hybrid tiger musky should not be confused with the true muskellunge which has long been called tiger musky in Minnesota. In most respects, notably in size and appearance, the hybrid is very much like the true musky and anglers universally hold it in equal, and often higher, esteem than the true musky because of its rarity, its beautiful markings and its game nature. It differs from the the true musky most noticeably in the markings on its sides. The true musky may have either bars or spots on the sides.or no markings at all, but it is rarely as strikingly beautiful as the tiger musky with its wavering tiger stripes. For many years the tiger musky was believed to be a separate species until scientists succeeded in crossing a northern pike with a musky to discover its true origin. Today this fish is one of the most prized freshwater catches that an angler can make.
The tiger muskie lives in the lakes and quiet rivers in Canada, the Great Lakes, the Upper Mississippi Valley, and the Ohio and St. Lawrence Rivers. It is found the most in Michigan. It is rarely found far from its natural waters except for stocked fish. Several states, including Minnesota, Michigan, New Hampshire, Washington, Massachusetts, Arkansas, Montana, Idaho, Utah, Colorado, New Mexico, and Wyoming stock tiger muskies. Each tiger muskie tends to inhabit the same areas of its lake from year to year. It tends toward shallower waters (6–9 ft deep) and travels half as much in the summer and fall than it does in the winter to spring, when it prefers deeper waters (15–30 ft deep).
Back in the day (The Fall Of 1969) my fishing buds and I fished Lac Vieux for musky and actually talked with Dolores Lapp. We saw her record tiger musky mount. What a fish! We fished for two days but didn't see a musky. We did catch a few walleye though. It's hard to believe two world record muskies were caught on this small lake, although back when Mrs. Lapp caught her record fish, musky lakes were not so heavily fished as they are now.
This obituary appeared in a MUSKY HUNTER MAGAZINE:
One-Time Record Holder Dolores Lapp Dies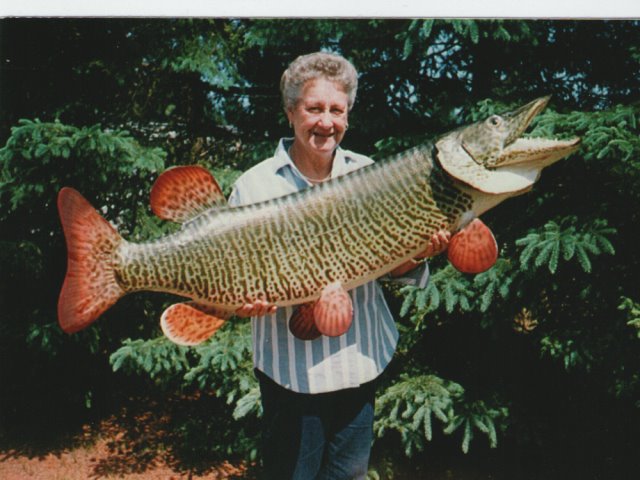 Dolores Lapp, whose 50-pound 4-ounce tiger musky once held the world record, died December 20, 2015, in Sebastian, Florida. She was 86.
Mrs. Lapp was only 21 years old on June 28, 1951, when she caught her 56-inch fish from Lac Vieux Desert in northeastern Wisconsin. Her musky, which she caught while fishing with her husband, Jack, a famed Vilas County guide, stood as the hybrid world record until research into a musky caught in 1919 by John Knobla proved the latter fish was a hybrid.
Knobla's musky of 51 pounds 3 ounces is the current hybrid world record. It, too, was caught from Lac Vieux Desert.
Mrs. Lapp was born in Chicago to John and Isabel Ott. She moved to Land O'Lakes, Wisconsin, in the 1940s and married Jack Lapp. A professional dancer before moving to the northwoods, she started the Dolores Lapp School of Dance and taught children for more than 20 years.
Mrs. Lapp is survived by her husband, two sons, a daughter, five grandchildren and five great-grandchildren.
Services will be held in the early summer in Land O'Lakes.